Exploring the Toblerone House...
The Brazilian architecture firm studio mk27 is known for designing beautiful homes that feature minimal forms and innovative details in a modernist context.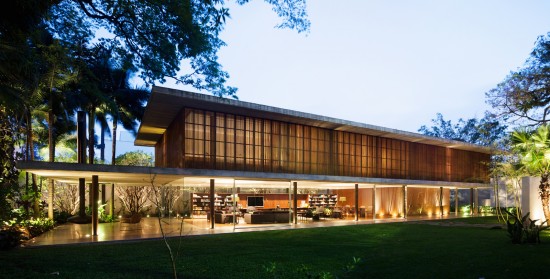 The Toblerone House in Sao Paulo is no exception- the strong linear forms of the concrete planes that extend to enclose the two story home are softened by a vertical wood slat screen assembly at the second level, allowing for a sense of translucency while providing privacy.
The main living floor is open to the landscape with a structural system of steel columns and glass wall enclosures, allowing inhabitants to enjoy the tropical climate and natural outdoor garden.
A beautiful example of contemporary Brazilian architecture, it's clear why this home has won several awards and has been featured on numerous design journals, websites and blogs. We, too, have admired the work of studio mk27 and recently stumbled upon a video that brought this project to life in an unconventional, but thoroughly enjoyable way...